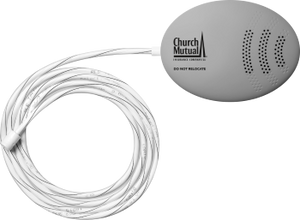 Add-on sensor to the CM Sensor® 24/7 Temperature and Water Alert System.

4-foot tail extends the water-sensing reach of the Water Leak/Temperature Sensor.

Wirelessly connects to SmartBase device—for use within 150 feet of existing SmartBase.



Shipping (based on total order amount): $6 for orders less than $50, $8 for orders between $50-$100 and $10 for orders above $100.
Certified for use only in the United States.

A maximum of thirty (30) sensors/devices—water/temperature sensors, PULL FOR POLICE devices, ALARM ALERT devices—can be connected to a single

SmartBase

.
Have Questions?
Contact Support at 888-531-4310
Powered by Roost.  Designed in California. Assembled in China.
This device is intended for use with Church Mutual's Sensor 24/7 Temperature and Water Alert System